Plop Boot Manager – Cum putem boota de pe stick USB cand nu exista optiune in BIOS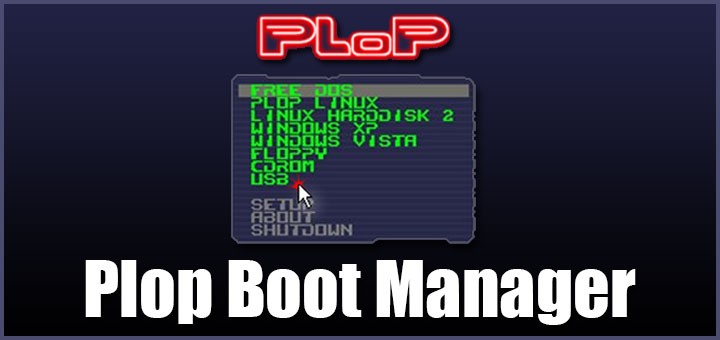 Am sa va prezint in acest articol un utilitar numit Plop Boot Manager cu ajutorul caruia aveti posibilitatea sa instalati un sistem de operare de pe un stick USB atunci cand in BIOS nu exista aceasta optiune.
Exista calculatoare si laptopuri mai vechi care din nefericire nu au aceasta optiune in BIOS, sau exista, dar nu este functionala (o problema des intalnita in trecut). De asemenea este util in cazul laptopurilor care au parola pe BIOS si se doreste instalarea unui sistem de operare de pe stick, neavand la dispozitie un CD/DVD cu sistemul de operare. Conditia fiind insa, ca laptopul sa stie sa booteze prima data de pe unitatea optica.
Desi scopul acestui articol este strict problema expusa mai sus, trebuie sa stiti ca utilitarul Plop Boot Manager are mult mai multe optiuni. Le puteti vedea in lista de mai jos:
• USB boot without BIOS support (UHCI, OHCI and EHCI)
• CD/DVD boot without BIOS support (IDE)
• PCMCIA CardBus support to enable boot from USB PC-Cards
• Floppy boot
• Different profiles for operating systems
• Define up to 16 partitions
• No extra partition for the boot manager
• Hidden boot, maybe you have a rescue system installed and the user should not see that there is another system installed
• Boot countdown
• Hide partitions
• Password protection for the computer and the boot manager setup
• Backup of partition table data
• Textmode user interface 80×50
• Graphical user interface 640×480, 800×600, 1024×786, 1280×1024
• MBR partition table edit
• Start of the boot manager from harddisk, floppy, USB, CD, DVD
• Starting from Windows boot menu
• Starting from LILO, GRUB, Syslinux, Isolinux, Pxelinux (network)
• It can be used as PCI option ROM in your BIOS
• Access the whole USB hard disk (up to 2TB) even when the bios has a 128 GiB limit
• You can run the boot manager over the network
• Start the network card boot rom from the boot manager to boot from the network
Asadar, pentru a putea boota de pe stick-ul USB, trebuie mai intai sa descarcati imaginea ISO cu Plop Boot Manager de aici. Apoi va trebui sa o scrieti pe un CD/DVD pentru a putea boota de pe el. Dupa ce ati scris imaginea pe mediul optic dorit, bootati calculatorul de pe acesta si alegeti dintre optiunile afisate, ca mediu de boot USB-ul. Vezi imaginea!
Bineinteles, pentru acest lucru va trebui sa aveti stick-ul bootabil cu sistemul de operare pregatit si introdus in unul din porturile USB. De asemenea, Plop Boot Manager este util si in cazul celor care doresc sa probeze diferite distributii de Windows/Linux, intr-o masina virtuala, bootand de pe stick-uri USB.