Windows 10 Technical Preview actioneaza ca un "Keylogger"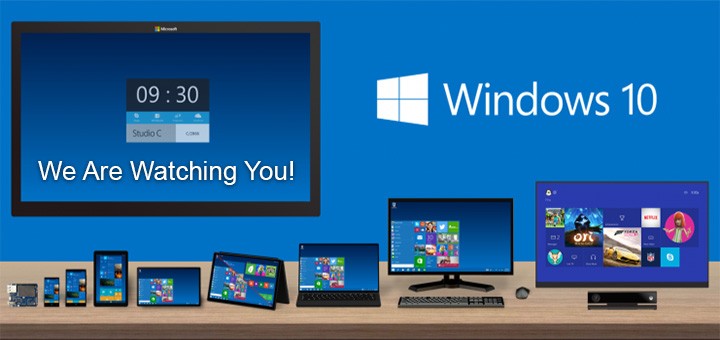 Declaratia de confidentialitate pentru noul sistem de operare Windows 10, dezvaluie unele aspecte nespuse ale versiunii Technical Preview. Deja milioane de utilizatori au descarcat noua versiune a sistemului de operare pentru a o testa si evalua. Majoritatea au facut acest lucru prin programul Windows Insider pus la dispozitie de Microsoft. Programul Insider a fost lansat odata cu Windows 10, iar pentru a putea descarca imaginile ISO este necesar un cont gratuit Microsoft. Numai ca datorita entuziasmului oamenii au neglijat sa citeasca politica de confidentialitate pusa la dispozitie. Aceasta cuprinde o serie de detalii care ne pun pe ganduri si ridica mari semne de intrebare asupra politicii Microsoft.
Conform celor de la The Hacker News, Windows 10 Technical Preview are facilitatea unui "Keylogger" de a colecta date si a spiona fiecare miscare a utilizatorului pe care acesta o face in cadrul sistemului de operare.
"If you open a file, we may collect information about the file, the application used to open the file, and how long it takes any use [of] it for purposes such as improving performance, or [if you] enter text, we may collect typed characters, we may collect typed characters and use them for purposes such as improving autocomplete and spell check features", conform privacy statement.
Cu alte cuvinte Microsoft va avea acces la ce tastati si la datele din fiserele pe care le deschideti. Daca deschideti un fisier si veti scrie ceva in el, atunci Microsoft va avea acces la acele informatii. Probabil aceasta este si cauza pentru care Microsoft insista ca versiunea Technical Preview sa nu fie instalata ca versiune de baza pe calculatoarele personale.
Insa asta nu e tot. Datele colectate inseamna mai mult de atat. De exemplu Microsoft se uita la compatibilitatea aplicatiilor si colecteaza informatii vocale atunci cand este folosit microfonul pentru a imbunatati procesul de recunoastere vocala.
"When you acquire, install and use the Program, Microsoft collects information about you, your devices, applications and networks, and your use of those devices, applications and networks", conform privacy statement.
"Examples of data we collect include your name, email address, preferences and interests; browsing, search and file history; phone call and SMS data; device configuration and sensor data; and application usage", conform privacy statement.
De asemenea, din cate se poate vedea mai sus in fragmentul din declaratia de confidentialitate, Microsoft poate colecta nume, adrese de e-mail, setari, date despre navigarea pe Internet si multe altele. Si cum toate acestea nu ar fi de ajuns, Microsoft partajeaza informatia colectata si cu alti parteneri sub motivul imbunatatirii noului sistem de operare si al produselor acestora.
"Microsoft shares some data with our partners to improve how their products and services work with Microsoft's products and services. We may share or disclose information about you with other Microsoft-controlled subsidiaries and affiliates, and with vendors or agents working on our behalf".
Desi aceste colectari de date se fac conform Microsoft, doar pentru a putea aduce ultimele ajustari noului sistem de operare Windows 10 inainte de lansarea oficiala, parca totusi e prea mult.
Prin urmare, cel mai indicat este sa folositi o masina virtuala, daca doriti sa testati noua platforma Microsoft!